Gary Bruce
On March 30, 2017, the Western New York Flash named Gary Bruce the third head coach in franchise history. Bruce enters his first season as a head coach in UWS play.
The Longmont, Colorado native joined the Flash organization last year and is currently the Director of Coaching of the Western New York Flash Jr. Academy and coaches two boys' teams in the Academy. Bruce is one of three coaches in the Academy to boast United State Soccer Federation "A" coaching license.
A graduate of the University of Colorado, Bruce won a National Championship with the Buffaloes in 2005. Following his time with Colorado, he stayed in the area and played for local teams in the Premier Development League and captained a team in the National Premier Soccer League before entering the coaching ranks.
Bruce was a crucial part of Paul Riley's staff during the team's 2017 NWSL Championship run. The team compiled an 11-5-6 record en route to the title, and saw forward Lynn Williams earn the league's Most Valuable Player title. In addition, the Flash saw nine players playing at the international level by the end of the year, up from four at the beginning of 2016.
Marcelo Moreira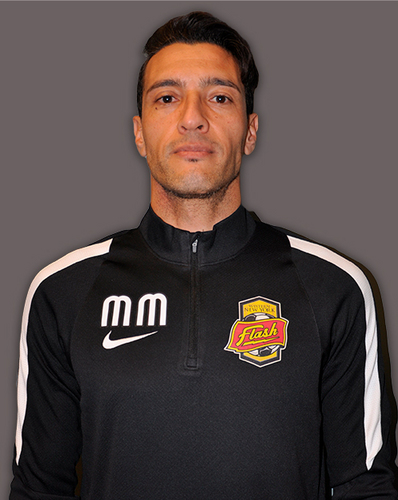 On March 30, 2017, the Western New York Flash named Marcelo Moreira the team's goalkeepers coach.
A former professional goalkeeper, Moreira brings over twenty years of playing experience at the club and international levels to the Flash. He previously served as the Goalkeepers Coach for the Western New York Flash, including during last year's 2016 NWSL Championship, and currently serves as the Director of Goalkeeping for the Western New York Flash Academy. With the professional team, Moreira helped develop Canadian National Goalkeeper and 2016 NWSL Championship MVP Sabrina D'Angelo.
Professionally, Moreira spent time playing with the Rochester Lancers after playing for the S.E. Palmeiras from 1992-2000. While at Palmeiras, Moreira received the League Championship in 1992 and 1993, was the South American Champion in 1999, giving the team the opportunity to play against the champion of the Champions League, which was Liverpool. In 2001-2003, Moreira played for the Londrina E.C. From 2004-2006, he played for the C.A. Juventus, earning the Championship in 2006.